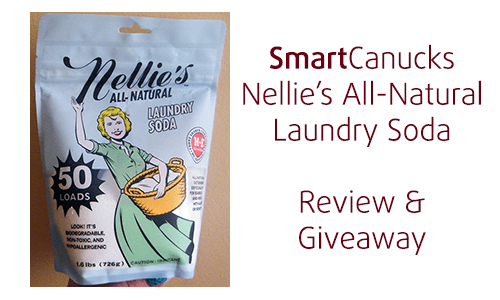 Nellie's All-Natural recently sent me a bag of their 50 load Laundry Soda to try out – and once you have finished reading my review of it, one lucky SmartCanuck reader will also have the opportunity to win a 50 load bag too.
Nellie's All-Natural is Canadian, based in Vancouver, is hypoallergenic and uses natural products that you can actually pronounce – plus for those with babies, it is cloth diaper safe.
Coconut Oil Based Surfactant: The natural stuff that cleans
Sodium Carbonate (Soda Ash): Assists the stuff that cleans by softening the water and provides alkalinity
Sodium Metasilicate: Helps prevent the metal parts in the washer from corroding.
Fatty Alcohol Ethoxylate: More natural stuff that cleans
Sodium Chloride: Helps to hold it all together and increase flow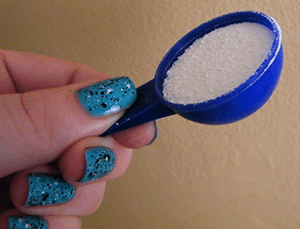 Nellie's comes with a small spoon style scoop, those used to using a large scoopful of detergent do not try using that much, you really don't need that much of Nellie's All Natural.  You may have to dig around in the bag for it, mine had settled close to the bottom.
We washed 4 loads of laundry, including a load of clothes muddy from a construction site after the rain the other day.  I will admit, I was fully prepared to wash the muddy clothes a second time using our regular laundry detergent and added an extra 1/2 scoop of Nellie's when washing them but to my surprise, they didn't need a second cleaning.  The whites were not dingy at all and the clothes smelled fresh and clean without a fake perfume smell.  It worked well in both the hot and cold wash cycles for our loads of laundry with no residue left on the clothes.
For those who want to buy Nellie's All Natural, you can buy it directly from them in 50, 100 or 1101 load containers, or in 36 and 50 load packs of pre-measured laundry nuggets.  They also have dryer balls that you can insert lavender sticks into to make your drying all-natural too.
Nellie's is also sold at  Costco online and many retailers including London Drugs and Bed, Bath & Beyond.  You can find a list of local retailers here.
Now, on to how to win one:  Enter using the rafflecopter form below (it may take a few seconds to load). – Please make sure you have answered the mandatory question (first entry option)
Winner: Karen Jones