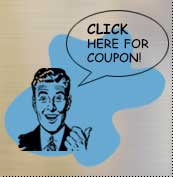 Good Friday All!
There is a new and wonderful coupon site for Canadians!  It's called couponclick and it has printable coupons on it that I think are going to come in very useful.  You do have to register for the site and validate your email address before you can print any of their coupons.  You are allowed to print each coupon up to 3 times and they are valid for a month after printing.  They have a Canadian flag on them and state "Only valid in Canada" so you shouldn't have a problem using them at stores that accept printables.
Right now there are coupons available for Clorox, GreenWorks, Mother Hen Organics, Guardian Angel Foods, Palmolive, Nivea and Nature Clean products.  There is a coupon for $1.00 off Clorox Wipes which is great this week because WalMart has them on for $1.48 so with coupon they are only $0.48!
I hope they keep adding coupons.  Wouldn`t it be great if it became as diverse as save.ca?
Click here to register and print your coupons!
And a huge THANK YOU to swingdalia for finding this site and bringing it to our attention!