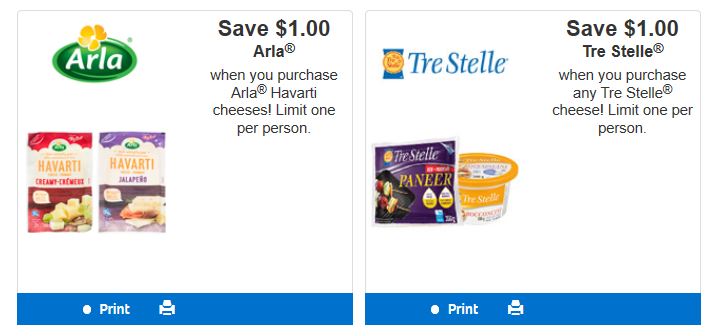 There are a couple of new printable coupons for cheese products that have been made available by the Dairy Farmers of Ontario. If you click the link below you will find these two coupons that you can print:
Save $1 when you purchase Arla Havarti cheeses
Save $1 on the purchase of any Tre Stelle cheese
I'm not sure how many times you can print these coupons, but it's likely once per browser. Both of these coupons do state a limit of one per person, so make sure you aren't using more than one of each per shopping trip.
Starting tomorrow at Freshco Ontario Arla sliced cheese 125-165g is advertised for $4, making it $3 with the coupon. Tre Stelle Paneer is $3.88 at Freshco beginning tomorrow, and would be just $2.88 with the coupon.
Click here to print your coupons!