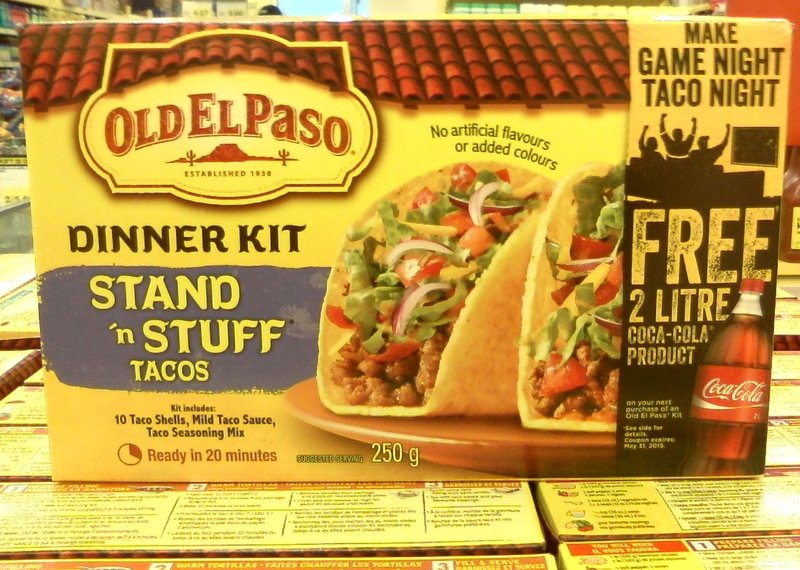 If you have been couponing for a while then you know that certain products typically have coupons on their packaging time and time again, and two of these products have new coupons on them at the moment. Watch for these new boxes of Old El Paso Dinner Kits, this time with a coupon for a free 2L Coca Cola product. Just a note that the  coupon is to be used on your NEXT purchase when you purchase another taco kit, and the pop. This coupon is valid until May 31st, 2015. Thank you to forum member potohgold for posting about this in our forum.
Another product that repeatedly comes with coupons on its packaging is Astro yogurt in the multipack format. The following coupons where found by forum member CouponLadybird on a 16 pack of Astro Zero, but I have also recently seen them on the Astro Original 12 pack:
$1 any Astro Original Yogourt (12 x 100g, 500g, 650g, 750g)

$1 any Astro Zero Yogourt (12 x 100g, 16 x 100g, 650g)

$1 WUB 3 Astro Kik Drinkable Yogourt

$1 any Astro Yogourt (12 x 100g, 16 x 100g, 500g, 650g, 750g)

$1 any Black Diamond Cheese Spread (185g)
All of these coupons expire August the 31st, 2015.
Click here to view the thread on our forum for more coupons that can be found on product packaging.