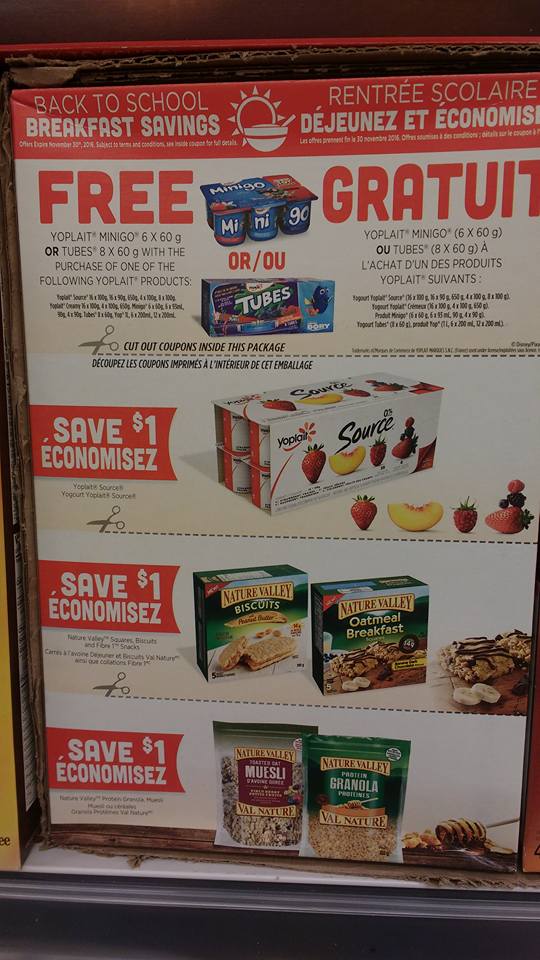 You may have noticed some boxes of Cheerios products on store shelves that look like they may have a coupon for a free package of Yoplait Minigo on them . The coupon is actually a buy one get one free coupon, but a great one nevertheless. There are also a few other coupons on the back of the packaging as well. If you pick up one of these boxes of cereal, here are the coupons you will receive:
Get a free Yoplait MiniGo or Tubes products with the purchase of any specified Yoplait yogurt purchase
Save $1 on any Yoplait Source yogurt
Save $1 on any Nature Valley Biscuits, Squares, or Fibre 1 Snacks
Save $1 on Nature Valley Muesli or Granola
All of these coupons are valid until November the 30th, 2016. If you don't want to purchase the cereal to get the coupons, you may have some success looking in recycling bins. There are always plenty of cereal boxes with coupons and offers still in tact.