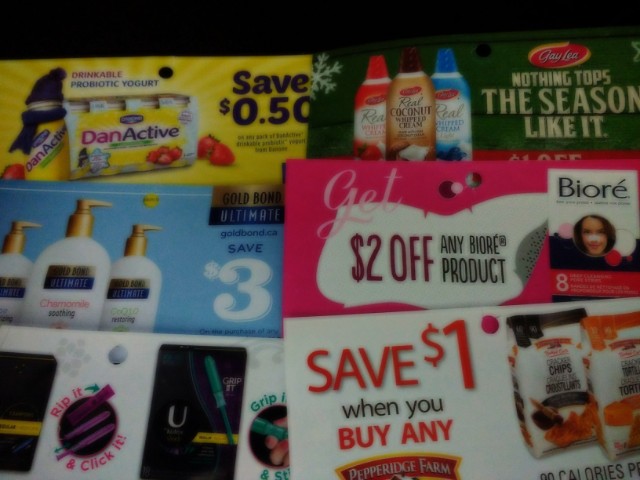 I am happy to report that during my shopping excursion to Real Canadian Superstore yesterday, I found many new SmartSource tear pad coupons for the month of December! If you are headed to any Loblaws banner store, such as Zehrs, Fortinos, Real Canadian Superstore, etc., be sure to have a look at the Coupon Zone board near the front of the store, for brand new coupons like the following:
Save $1 on any Purina DentaLife Chews Dental Dog Snack
FREE Soft & Chewy Dog Treats when you buy any two Milk-Bone Dog Treats
$1 off Benylin Cough PLUS Cold Relief
Save 50 cents on the purchase of any 340 box of Barilla Protein Plus or Gluten Free Pasta
Save $2 on any one ALEVE product 20 count or higher
Save $5 when you buy any Gillette Fusion ProGlide Razor
Save 50 cents on any pack of DanActive
Save $1 on any Gay Lea Whipped Cream
Save $2 on any Biore product
Save $1 on any Pepperidge Farms Cracker Chips
Save $2 on any U By Kotex Tampons
Save $3 on Gold Bond Ultimate lotion or cream
Save $2 on any Nicorette Mini Lozenge Product
Coupons may vary by region, and some may be repeats of coupons that were previously available, but there are definitely some great news ones in the bunch. If you are not able to find these yet, keep checking as they should be available very soon!