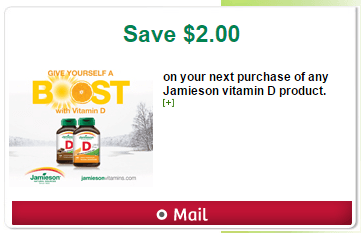 There is a new Hidden WebSaver.ca Coupon in the Jamieson Coupon Portal! Print this coupon to save money on your next purchase of select Jamieson products.
With the sunny weather leaving us, we need a source of Vitamin D! Did you know that throughout the Winter, since we spend so much more time indoors, we get about 50% less Vitamin D than we would in the Summer time? Vitamin D essentially comes from the sun but can be found in some food items as well. Jamieson has the perfects solution, and you will love the new coupon:
Save $2.00 off of your next purchase of any Jamieson Vitamin D Product
This Jamieson WebSaver.ca Canada Coupon is available via mail only, which just means you save money on printer ink! Keep your eyes peeled for sales and deals to combine this coupon with for the ultimate savings.
Click here to get this Jamieson WebSaver.ca Canada Coupon!