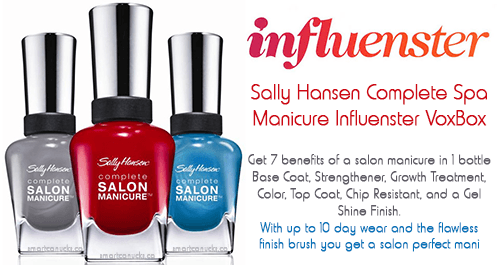 We introduced you to Influenster last year and gave a sneak peek of some upcoming VoxBoxes they would have available to Canadians.  I just got an email confirming my acceptance into the next VoxBox (one I am very excited about as it contains nail polish!).
Influester promised two campaigns for Canadians in early 2014:
The first is from a brand we all love… and they're packing the box with 3 items that will make you polished from head to toe!

The 2nd is from a brand that's kind of shy… she wants you to know she's better than the rest, but she doesn't want to say! You'll have the chance to do a blind test… & then discover this brand is better than the rest!
So it looks like we will be receiving 3 bottles of nail polish for this first VoxBox of 2014 or maybe nail polish and manicure tools.  I prequalified for this one as a prize from the first box, so you may still have a chance but they have been sending out other invites already.  Log in to your influenster account and make sure they know you are interested in beauty.  Adding your social media accounts on the main profile page can also help increase your score.  You may just get chosen too!
If you want to see what was in the last box, check out the blog post about it here.