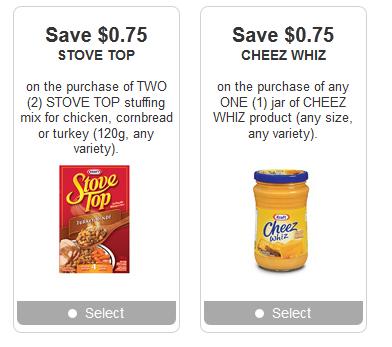 Three new printable coupons are now available through the Kraft What's Cooking coupon portal, so head over and scoop these up while they last! You can now print the following three coupons:
Save 75 cents on the purchase of two Stove Top stuffing mix for chicken, cornbread, or turkey, 120g, any variety
Save 75 cents on the purchase of one jar of Cheez Wiz product, any size, any variety
Save $1 on the purchase of Kraft peanut butter 750g, or 1kg, any variety
You must have a Kraft Canada What's Cooking account in order to even access the coupons, so if you do not you will have to register first. Once you sign in, you will be able to print one coupon per account, to a maximum of two per computer.
The Stove Top is on sale for 99 cents at many place this week, so this would be a great coupon to print and use while shopping this weekend.