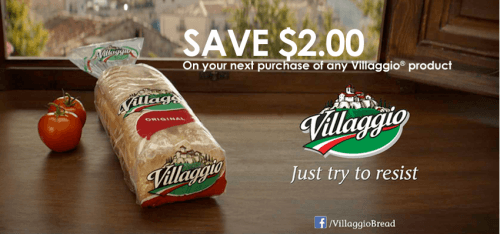 There is a new Save.ca Canada Mail coupon available!
Head on over to the Save.ca Canada Villaggio Coupon portal and be well on your way to enjoying some savings! The new Save.ca Canada Coupon will allow you to Save $2.00 off any Villaggio Product. This coupon is available via Mail only at this point, while quantities last.
Honestly, I find Villaggio Bread delicious! I love this bread slightly toasted with my eggs and bacon in the morning. It also makes excellent Ham and Swiss Sandwiches! Have you tried the Villaggio Bread? Since this coupon can be used towards any Villaggio Canada product, you can also use it to save money on Hamburger Buns as well as other products.
Enjoy!
Click here to get your hands on this new Save.ca Canada Mail Coupon!