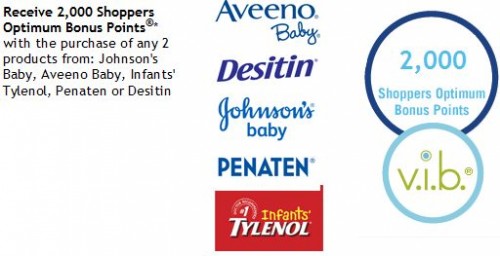 Take advantage of this great Shoppers Drug Mart V.I.B. bonus point coupon.  Receive 2,000 Shoppers Optimum Bonus Points with the purchase of any 2 products from: Johnson's Baby, Aveeno Baby, Infants' Tylenol, Penaten or Desitin.  Print your bonus point coupon here.  One time use only and the coupon expires November 30th.  You must have a VIB membership.
There is also a coupon for 2000BP when you buy Pampers Swaddlers, expires November 4th.
Check our Shoppers Drug Mart Bonus Point Coupons wiki thread for other great bonus point offers for regular and VIB cardholders.