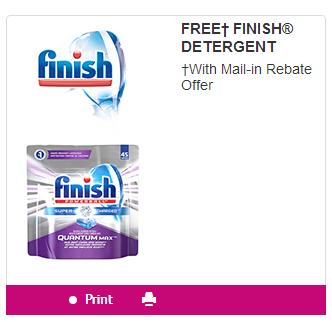 A new mail in rebate is available through the SmartSaver Canada portal this morning. Try Finish detergent for free with this new offer that can be located by clicking the link below.
To participate in this offer you must first be registered for SmartSaver. You can either sign in to the account that you have previously made, or if you are new to SmartSaver can can register first. Once signed in you must print the offer. The printable rebate form must accompany your mailed receipt in order to receive your money back in the form of a rebate cheque. You will receive up to $8 back when you purchase any Finish Quantum Max, Quantum Max Power & Free, Max in 1, or Max in 1 Power & Free, 18 count or larger.
The products must be purchased by July the 19th in order to qualify for the rebate. The mailing instructions are on the printed form.
Click here to print your rebate for up to $8 on a Finish detergent product.