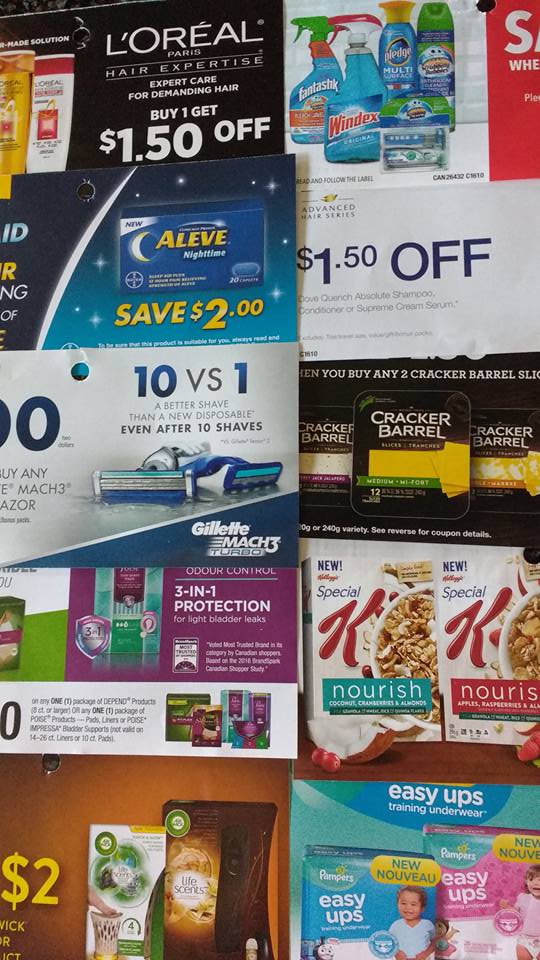 New SmartSource tear pad coupons are just hitting Coupon Zone boards for the month of September! You may have already spotted some of these, and if not you can surely expect to see them within the next week. While you can find coupons at many different stores, your best bet to find them all easily and in one location, is to hit a Loblaws banner store, like Loblaws itself, Zehrs, Fortinos, Real Canadian Superstore, etc. These stores have actual boards located near the entrance, and you should be able to find some, if not all of these there.
Here is a list of some of the new coupons that you should soon be able spot:
Save $2 on Flinstones Multivitamins
Save $5 on Floraster 50 count or $3 off Floraster 20 count
Save $5 when you spend $9 on any three of the following: Scrubbing Bubbles, Pledge, or Fantastik
Save $2.50 on Milk Bone Good Morning Daily Vitamin Treats, or Milk Bone Brushing Chews Daily Dental Treats
Save $2 on Aleve Nighttime
Save $1.50 on Dove Quench Absolute Hair Care
Save $2 on any one Gillette Mach 3 refillable razor
Save $1.50 on any 2 Cracker Barrel Slices
Save $1 on Special K Nourish Cereal
Save $3.50 on Huggies Pull Ups
Save $3 on Pampers Easy Ups
Save $3 on Depend or Poise products
Save $2 on Air Wick Touch & Glow or Freshmatic
Save $1.50 on L'Oreal Expertise
Save $1 on any Systane product
Coupons may vary by region and while you may not find all of these, you could find several that aren't on this list. Happy coupon hunting!