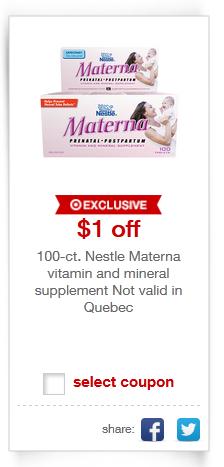 Here is a brand new Target Exclusive printable coupon that is available through the Target Canada printable coupon portal. Save $1 on the purchase of Nestle Materna vitamin and mineral supplements. This coupon is not valid in Quebec.
It can be found under the food category when you visit the Target portal. Not sure why it's under food, but that's where it can be found. Also, a reminder that Target Exclusive coupons can be combined with manufacturer coupons for addition savings. Nestle Canada sometimes sends out $10 Materna coupons with your package when you join the Nestle Baby program. If you happen to have those coupons, they can be combined with the Target Exclusive coupon. There is a limit of two prints per computer for all Target Exclusive coupons.
Click here to print the Target Exclusive Materna coupon.
Click here for more info about the Nestle Baby Program.