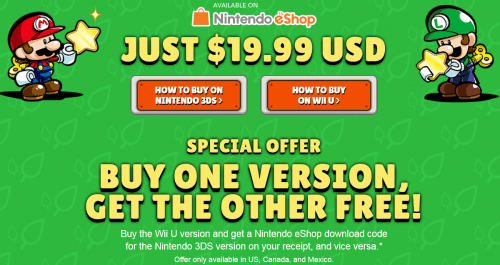 The Nintendo e-Shop Canada has some great deals available online this week for gamers! Log onto the Nintendo e-Shop for a limited time and you could buy one, get one version free when you purchase Mario vs Donkey Kong Tipping Stars! Tipping Stars is available for both the Wii U and 3DS, but if you purchase one version on the e-Shop for $19.99USD, you'll get a free download code for the other version on your receipt! That means that you'll be getting 2 games for the price of one! Mario vs Donkey Kong Tipping Stars is the 6th entry into the classic Mario vs Donkey Kong franchise. In this game, the beautiful Pauline is once more the victim of Donkey Kong's kidnapping antics. Mario quickly gives chase with his Mini Mario toys in hopes of rescuing Pauline from the gorilla's grasp, and has to face a series of girders, springs, conveyor belts, pipes, and lifts to save her. This game was just released in March of this year, and is a fun play for any child, or anyone looking for a bit of nostalgia on this update of the classic arcade title.
Other deals available on the e-Shop now include:
$5.59 for AquaMoto Racing (3DS) (was $7.99)
$7.49 for Nano Assult Ex (3DS) (was $9.99)
$6.99 for Real Heroes: FireFighters 3D (3DS) (was $9.99)
$5.59 for Snow Moto Racing (3DS) (was $7.99)
$6.99 for Life of Pixel (Wii U) (was $9.99)
$3.99 for PING 1.5+ (Wii U) (was $4.99)
$29.99 for Etrian Mystery Dungeon (3DS) (was $39.99)
$29.99 for Persona Q: Shadow of the Labyrinth (was $49.99)
$3.49 for Van Helsing Sniper Zx100 (3DS) (was $6.66)
$19.99 for Senran Kagura Burst (3DS) (was $19.99)
These offers are on for a limited time only. Prices are usually higher in Canada. Log onto the e-Shop on your Wii U or 3DS to download these deals.
Click here to view more deals online at the Nintendo e-Shop.