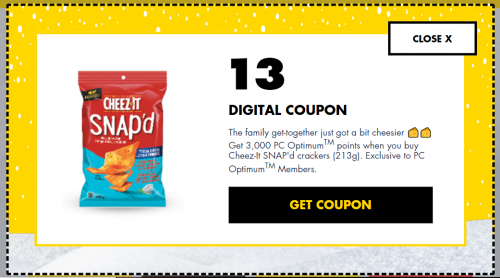 This offer was mistakenly live for a brief moment the other evening and I know some of you were hoping it would come back! And here it again, the day 13 offer of No Frills 24 Days of Hauliday Yays. Get 3,000 PC Optimum points when you buy Cheez-It Snap'd Crackers. You can load your coupon through the link below if you didn't already load it the other evening when it was available.
Once loaded to your PC Optimum card, this offer is valid until March the 31st, so you don't have to rush off to No Frills to get your Cheez-It Snap'd, or any of these other loadable offers. Just make sure you load the offer soon because only so many digital coupons are available and this will go fast.
If you wanted to pick them up this week, the Cheez-It Snap's are $3.99 at No Frills, unless you can find a better price to match. You might also have a personal offer of 200 points per dollar in your PC Optimum account, which would combine with the 3,000 points each from this loadable offer.
Click here to get load your digital Cheez-It coupon from No Frills.