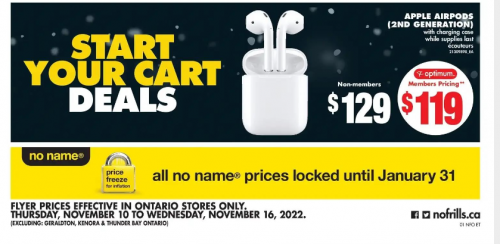 Starting tomorrow and until November the 16th you can get Apple Airpods (2nd Generation) for $119 from No Frills. This is a PC Optimum Member pricing offer, so you will need to scan your card for this price. If you are not a PC Optimum Member the price is $129.
This is the price from the Ontario flyer, so check your local flyer in case the pricing is slightly different. Also, make sure to check your personal PC Optimum offers tomorrow morning, as you may have total store spend offers, or spending offers specifically for No Frills that would make this an even better deal. For example, I get an offer for 12,500 PC Optimum points for spending $125 at No Frills almost weekly, which would get me another $12.50 for spending another $6 on top of the $119.
You will also find an offer in your app for the PC Nanaimo Cheesecake. Get 3,000 points for the purchase of this item from November 13th to 16th only.
Click here to view the No Frills Ontario valid November 10th – 16th.