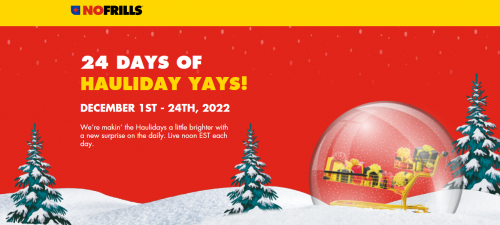 The Haulidays are nearly here! No Frills Canada has a holiday tradition of bestowing gifts upon us throughout the month of December, and the Haulidays kick off tomorrow, December the 1st.
Be sure the visit the link below each day at noon EST when the offer for the day will go live. Not every offer will blow you away, but there are usually things like free product coupons thrown in the mix, so be sure to check daily because you don't want to miss out. Things like coupons are usually available in limited amounts, and free product coupons go very quickly. In the case of regular coupons, you usually have hours to claim them without worry. The free product coupons are typically claimed and mailed through Save.ca, so go make an account there in advance if you don't have one already. You will have to sign in to claim your coupon.
Click here for new Hauliday offers at noon EST every day!