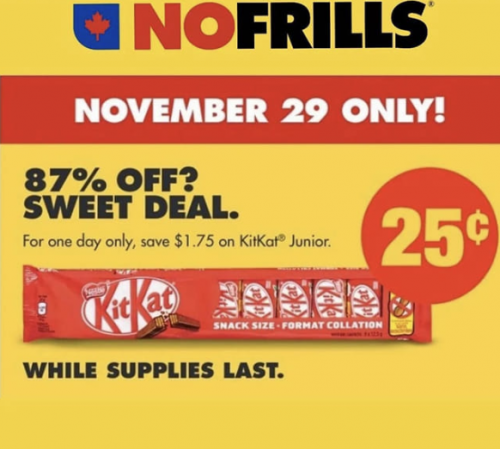 No Frills Canada has flash offer happening today that is definitely "start the car" worthy! They are practically giving away stocking stuffers, so if you had any reason to go today, you'll want to head there now. Today only, get 10-packs of Snack Size KitKat for just 25 cents each, a savings of 87% off the regular price of $1.75 each!
You store may have limits on these, or they may not if they have heaps of these that they are trying to get rid of. It will likely depend on the store. While you are there you can shop some of the other great deals this week, like the 50 cent No Name Marshmallows when you use your points offer for 1,500 PC Optimum points, and 50 cents No Name Whipped Topping with a similar offer. You'll also get 1,000 points for every purchase of Carnation Hot Chocolate 175-250g at $3.49.
Click here to view the No Frills flyer for this week.