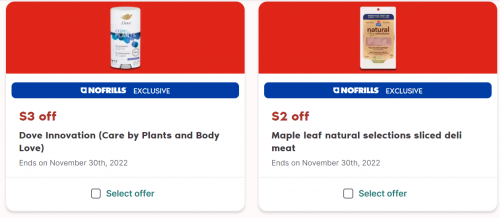 A short while back, No Frills and other Loblaws banners introduced digital coupons that can be loaded to your PC Optimum account. Once loaded, these coupons provide automatic savings at the checkout. A few new coupons have just been added to the list of available offers for No Frills, so here is the full list of coupons that you can add to your PC Optimum account:
NEW $1.00 off Alcan 100′ Foil
NEW $0.50 off Reynolds Unbleached Parchment 25′ or 75′
NEW $3.00 off Dove Innovation (Care by Plants and Body Love)
NEW $2.00 off Maple Leaf Natural Selections Sliced Deli Meat
$1.00 off AXE
$1.00 off Minute Maid OJ or Minute Maid NUTRI 1.75L
$0.50 off Ferrero Chocolate Tablet 90g
$2.00 off Vileda Mop Refills
$2.00 off Dove Hand and Body Lotion 400ml
$2.00 off Janes Boneless Chicken Breast Bites or Fillets
$0.50 off Bonne Maman Jam 250ml
$1.00 off Fleischmann's Yeast Jars
$1.00 off Minute Maid No Sugar Added 1.54L
$1.00 off Maple Lodge Chicken Sticks
$1.00 off Maple Leaf or Schneiders Ham
$0.50 off Dare Candy 180g
All of the above coupons are valid until November the 30th, 2022. Each coupon will apply to a maximum of four of the specified product in one transaction and are not to be combined with other offers.
Click here to load these offers to your PC Optimum account.