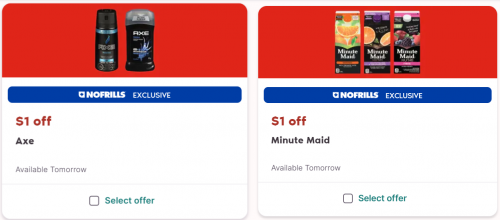 No Frills Canada has a new digital coupon board! Through the PC Optimum app or website you can now access and add digital coupons to your account. The current offers shown will be available tomorrow and are valid at No Frills only. Here is the list of offers that start tomorrow:
Save $1 on Axe
Save $1 on Minute Maid
Save $2 on Vileda Mop Refills
Save $2 on Dove Hand and Body Lotion
Save $2 on Janes Boneless Chicken Breast Bites or Fillets
Save 50 cents on Bonne Maman Jam
Save $1 on Fleischmann's Yeast Jars
Save $1 on Minute Maid (different products than the first offer)
Save $1 on Maple Lodge Chicken Sticks
Save 50 cents on Large/Family Size Ricola Bags
Save $4 on Culturelle Adult+Kids Probiotic
Save $1 on Maple Leaf or Schneiders Ham
Save 50 cents on Dare Candy
You can select only the offers that you would like and add them to your account for use this week.
Click here to visit PC Optimum.