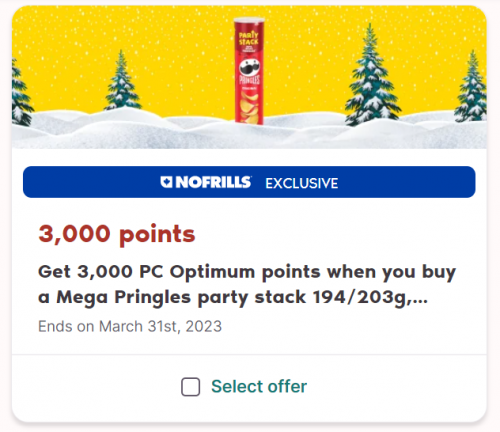 The offer for day 10 of the No Frills 24 Days of Hauliday YAYs has arrived and is now available to load to your PC Optimum account. Get 3,000 PC Optimum points when you purchase a Mega Pringles party stack, 194/203g. You can load the offer today and it will be valid for one-time use any time between now and March the 31st, 2023.
If you wanted to use the offer this week, the price for the Mega Pringles is $3.59 each. After the value of the points that leaves you paying 59 cents. One of my most common PC Optimum personal offers is for Pringles that I have bought almost never, so if you have that offer you would earn an additional 60 cents in points, at 200 points per dollar. You can also visit the Kellogg's & WebSaver coupon portal where you can print a coupon for 50 cents off any Pringles.
Don't hesitate to load this offer to your card because it's one of the better Hauliday offers and it may be available in limited quantities. The $3 off Axe coupon is still there if you haven't gotten around to loading it yet.
Click here to load the Pringles Hauliday offer
Click here to view this weeks No Frill flyer