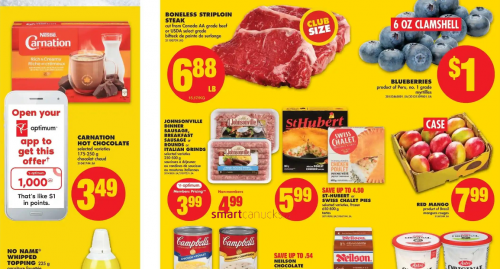 No Frills wants to reward you for all of the hard work you've done Black Friday shopping with this great offer on hot chocolate, and some accompaniments!
Starting tomorrow, you will find a loadable offer in your app of 1,000 PC Optimum points with the purchase of selected varieties of Carnation hot chocolate 175-250g. The hot chocolate is priced at $3.49, making it $2.49 after the points. You may have coupons, or there may be peelie coupons on the product, but with any luck you printed off the coupon that was recently available for $4 off. With this coupon your hot chocolate will be free. If you didn't print it, it's still available to be ordered by mail, so order it now through the link below!
No hot chocolate is complete without marshmallows and whipped cream and No Frills has you covered. You will find two more loadable offers in your app this Thursday, one for 1,500 PC Optimum points for every No Name Whipped Topping you purchase, priced at 2/$5, and 1500 points for every 400g bag of No Name Marshmallows that you purchase, priced at $2!
Click here to view this offer in the No Frills Ontario flyer. 
Click here to get the mail out coupon for $4 off the purchase of any Carnation Hot Chocolate.