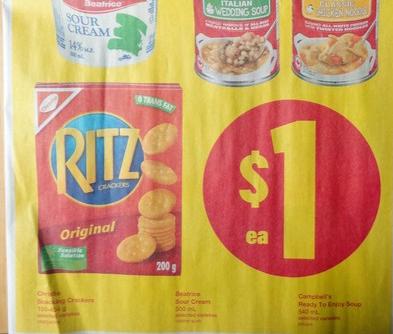 No Frills Ontario has an absolutely amazing deal on Christie Crackers beginning this Friday, and until December the 3rd. For the entire week, get select varieties of Christie Crackers for just $1! I don't think I have even seen Christie Crackers at this price. Usually $1 would be considered a good deal AFTER coupons.
Speaking of coupons, there are a couple you can use, if you have them, to lower your out of pocket cost even more. A while back there was a coupon available through the Walmart Canada coupon portal for $1 off the purchase of Wheat Thins Pita Crisps. Use this coupon and get those for free should they be included in the sale. The coupon is also valid on Ritz Sandwiches in the pizza flavour. Again, if those are included in the sale you can also pick those up for free.
Earlier this year there was also a tear pad for 50 cents off the purchase of any box of Triscuit crackers. Use this coupon if you still have it and pay just 50 cents. If you haven't seen it yet there is also a festive flavour of Triscuits out there that you may want to pick up for entertaining this season. For a limited time you can get Cranberry & Sage flavoured Triscuits.
Click here to view the No Frills Ontario flyer beginning November the 27th.