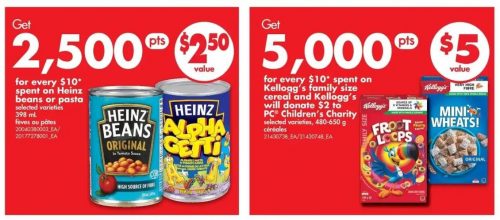 No Frills Ontario has a PC Optimum offer for Kellogg's family size cereal shown in their flyer this week. You will receive 5,000 PC Optimum points for every $10 that you spend on the family size cereals, and Kellogg's will also donate $2 to the PC Children's Charity.
The family size boxes are price at $5.49 this week, so you will need to purchase two to receive the 5,000 PC Optimum points. You might also have a personal offer for certain varieties, and if you purchase them you will get an additional 20% back in points.
The $5 grocery card promotion from Kellogg's is also underway, and if you purchase two qualifying boxes of family size cereal you will get a $5 gift card by mail when you upload your receipt. The boxes are specially marked, so you can identify them in-store. There is a limit of 5x $5 gift cards per household, and you are able to purchase all 10 boxes of cereal on one receipt if you wish.
Click here to view this offer in the No Frills Ontario flyer.
Click here to visit Kelloggs.ca for the $5 grocery gift card promotion.