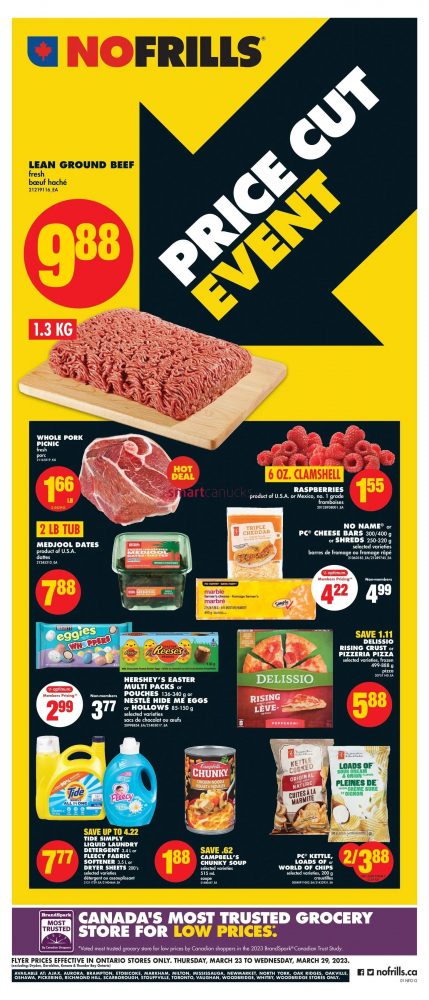 No Frills is a store that still provides some pretty decent bang for your buck, and with PC Optimum offers and price matching, you can usually get some really great deals. Don't forget to look over your remaining personal PC Optimum offers from this week as you look over this flyer. You have until midnight to save up to four of those offers, and some might pair well with some of these advertised items starting tomorrow:
Lean Ground Beed $9.88/1.3kg
6oz Raspberries $1.55
Whole Pork Picnic $1.66/lb
No Name Cheese Bars or Shreds $4.22 Member Price
Hershey's Easter Multipacks or Nestle Hide Me Eggs or Hollows $2.99 Member Price
The Laughing Cow Cheese $3.66
Country Harvest Bread or Bagels $2.77
Red or Green Seedless Grapes $1.77/lb
Fruitopia, Nestea, or Peace Tea Beverages $1.88
Campbell's Broth or Concentrate $1.44
Pillsbury Pizza Pops $2.77
Neilson Cream $2.77
Kellogg's Special K or Kashi Bars $3.11
Royale Tiger Towels $5.99
Hershey Chipits $3.29
Betty Crocker Cake Mix $1.69
Click here to view the upcoming flyer!