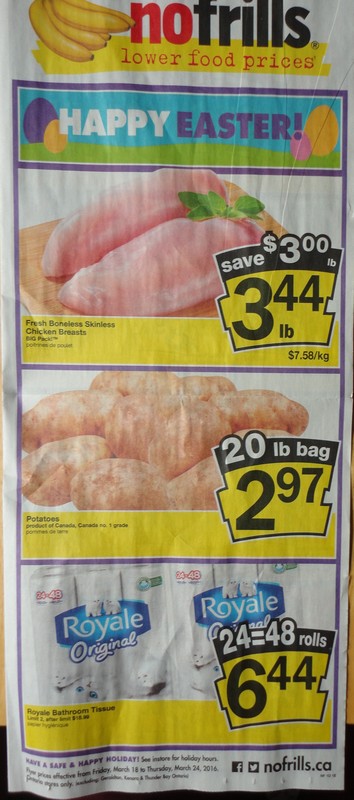 Here is a look at the No Frills Ontario flyer that was just uploaded by cyn88canada, valid for the week of March the 18th to the 24th. There are some great sale prices in the ad and I have highlighted some of these deals for you below. Click the link to visit the complete flyer on our forum and start making that shopping list for next week!
Dole Canned Pineapple .97
Uncle Ben's Stuff N' Such .97
Franco Gravy .67
Anchor's Bay Shrimp Ring $9.97
Breyer's Classic Ice Cream $2.44
Neilson 1L Cream $1.97
Christie Cookies or Crackers $1.67
Del Monte Canned Vegetables .77
Coke or Pepsi 2L Drinks .97
Chapman's Canadian Collection $2.97
Palmolive Dish Soap $1.77
Royale Bathroom Tissue 48 Rolls $6.44
20 lbs of Potatoes $2.97
Plenty of great deals just in time for your Easter dinner preparations!
Click here to view the No Frills Ontario flyer valid March the 18th to the 24th.