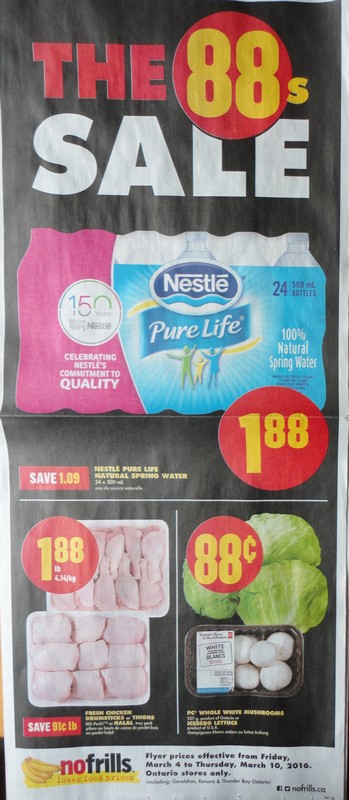 We have one more flyer sneak peek for you today, and this time it is the No Frills Ontario flyer. The upcoming flyer features an 88 cent sale with some great deals. Below are some of the highlights, and the link to the flyer in full so that you can can start planning and compiling your shopping list.
Pillers Sliced Ham $2.88 (use your 75 cent coupons)
Ziggy's Fresh Pasta $1.88
Schneiders Lunch Mates $1.88
Nestle Pure Life Bottled Water 24's $1.88
Chicken Drumsticks or Thighs $1.88/lb
PC Whole White Mushrooms 88 cents
Iceburg Lettuce 88 cents
Bag of 6 Avocados $2.88
Bag of 4 Sweet Peppers $2.88
Wonder Bread $1.88
Furlani Garlic Bread 88 cents
Mott's Garden Cocktail 88 cents
Hunt's Snack Pack 2/$1.88
PC Salad Dressing $1.88
I Can't Believe It's Not Butter 88 cents
Lay's Chips $1.88
No Name Vegetables 3/$1.88
Dove Bar Soap, Body Wash, or Hair Care $2.88
Click here to view the No Frills Ontario flyer valid March the 4th to the 10th!