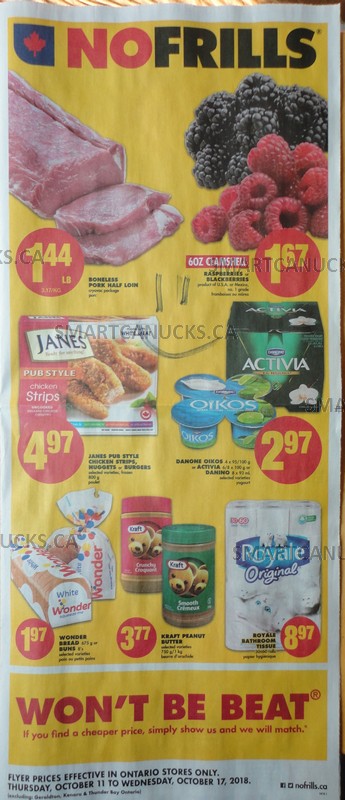 We have a sneak peak of the No Frills Ontario flyer for you this evening, for the week of October the 11th to the 17th. You can click below to view the complete flyer on our forum and start planning your shopping list and prepping any coupons you may want to use. Here are some of the highlights that you an look forward to:
Beefsteak Tomatoes .97/lb
Broccoli or English Cucumbers $1.27
Butternut, Buttercup, Acorn, or Spaghetti Squash .67/lb
Bartlett Pears or Navel Oranges .97/lb
Pork Loin $1.44/lb
Raspberries or Blackberries $1.67
Janes Chicken $4.97
Oikos 4pk or Activia 8pk $2.97
Wonder Bread $1.97
Kraft Peanut Butter $3.77
Babybel Cheese $2.97
McCain Superfries $2.47
Old El Paso Taco Kits or Salsa $2.97
Pillsbury Refrigerated Dough $1.97
Limes 3/.75
Campbell's Condensed Soup .75
No Name Frozen Burritos, Spinach, or Pasta Entrees .75
Click here to view the No Frills Ontario flyer valid October the 11th to the 17th.