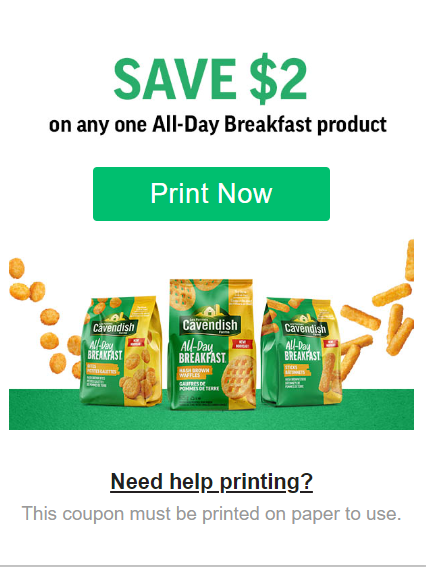 Clear some space in your freezer and head to No Frills Ontario, where you can get free Cavendish breakfast potato products!
Both the All-Day breakfast products and Waffle Fries are priced at $3 each when you purchase two or more. There are currently coupons available for $2 off the purchase of each of these. They are printable coupons, and you will find them linked below. Purchase at least two of the Cavendish breakfast potatoes and pay $1 each after coupons.
There is also an in-store bonus PC Optimum offer for these products, which will earn you 1,000 points for each Cavendish product that you purchase until November the 8th. The points are not awarding automatically for Cavendish fries, so be warned that you might have to do an inquiry if that is what you purchase. The points are awarding automatically for the Waffle Fries and All-Day breakfast. With this bonus of 1,000 PC Optimum points each, these products are free.
Click here to print your coupon for $2 off Cavendish Waffle Fries.
Click here to print your coupon for $2 off Cavendish All-Day Breakfast products.