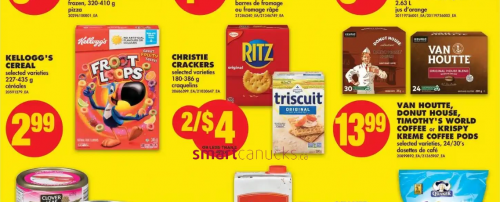 This week No Frills Ontario has selected varieties of Kellogg's cereal advertised for $2.99. This is a great price for Kellogg's cereal, and you can combine it with a PC Optimum offers this week to get free cereal!
If you check your PC Optimum app, you will see a loadable offer of 6,000 PC Optimum points for every $12 spent on Kellogg's cereal this week. If you purchase four boxes at $2.99 for a total of $11.96, this should round up and you should receive the 6,000 PC Optimum points. Some people have spent more than $12 and did not receive the 6,000 points however, so you may have to do a points inquiry for this one and you can screen shot your offer before you use it.
There are several $2 printable Kellogg's cereal coupons available through the Kellogg's/WebSaver portal, and you can find those coupons through the link below. You might also have the Kellogg's Breakfast Booklet coupons, and there are $2 coupons in the booklets as well.
Click here to view this offer in the No Frills Ontario flyer.
Click here to print your coupons for Kellogg's cereals.