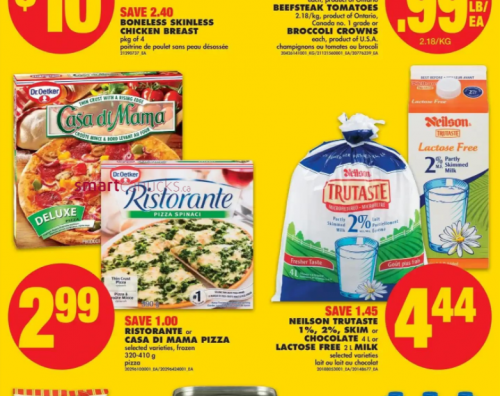 Those of you who purchase lactose free milk may be interested in this deal on Neilson Lactose Free Milk at No Frills this week. The Neilson Lactose Free Milk 2L is on sale for $4.44, and there is a printable coupon that is still available that you can use for an even better price.
If you visit the Dairy Farmer's Of Ontario printable coupon portal, you will find a coupon for $1 off the purchase of Neilson Lactose Free Milk. Use this coupon and you will pay just $4.44 this week. There are a few other coupons that are currently available through the Dairy Farmers portal, and you might find some of these useful as well:
Save $1 on the purchase of Cracker Barrel Cheese Slices
Save $1 on Fairlife 1.5L Ultrafiltered Milk
Save $1 on Balderson Cheese 140-500g
Save $1.50 when you buy two Black Diamond Cheesestrings 8pk
Click here to view this offer in the No Frills Ontario flyer.
Click here to print you coupon for $1 off Neilson Lactose Free Milk.