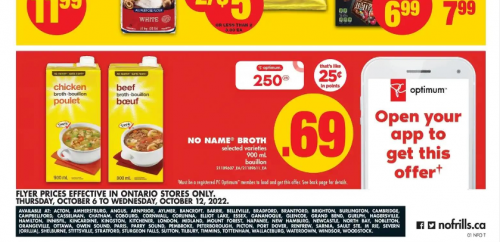 No Frills has an offer that many of you will want to stock up on this week! Broth is definitely a staple pantry item in the colder months for making soups, stews, etc., and No Frills has a price this week that we might not see again this year. Head to No Frills this week and load up on 900ml No Name broth for just 44 cents!
The broth is advertised for just 69 cents this week, and if you are a PC Optimum points member you will earn 250 PC Optimum points for each one that you buy. Your cost after the value of the points is just 44 cents! Depending on the location there may be limits on this item, so you might have to go through the cash a few times to stock up or keep revisiting while the sale is on.
Click here to view this offer on the No Frills Ontario flyer.