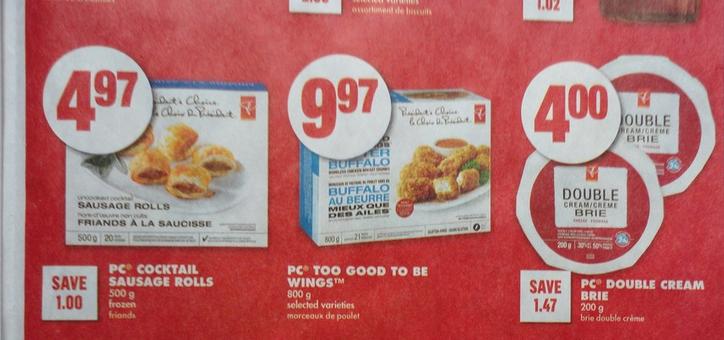 One of the most popular items for entertaining during the holiday season is certainly cheese, in many different varieties. Here is your chance to pick up some PC Double Cream Brie for an excellent price at No Frills Ontario this upcoming week, when you combine a sale price with a coupon that is still available to print.
In the flyer dated December the 2nd to the 8th, PC Double Cream Brie 200g is advertised for $4, which is a savings of $1.47 off the regular price. The WebSaver printable coupon portal, has a coupon newly added and still available, for $3 off when you purchase two Canadian Cheeses. The cheese must feature the 100% Canadian Milk logo, which would be that little blue spot you can see on the brie packaging in the picture from the flyer above. Use this coupon when you purchase two Brie, and each will cost only $2.50.
You might want to take a look for cheese that feature this logo the next time you are at the grocery store as there might be some really great uses for the coupon. The PC bar cheese also features the logo, although that is $4.97 in this flyer, which is not the best sale price.
Click here to view this offer in the No Frills Ontario flyer.
Click here to print your coupon for $3 off the purchase of two Canadian cheeses.