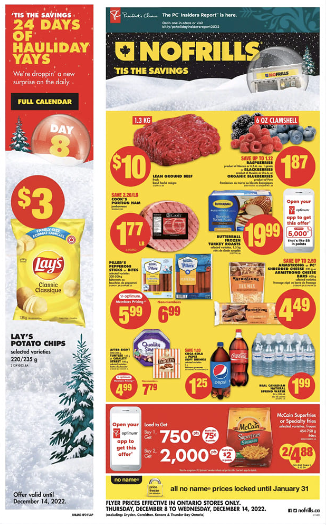 There are lots of great offers coming up in the No Frills flyer valid December the 8th to the 14th, so let's take a look! Here's what you can look forward to starting Thursday this week:
6oz Clam Shell Raspberries, Blackberries, or Organic Blueberries $1.87
Butterball Frozen Turkey Roasts $19.99 +5,000 PC Optimum Points (this offer will be in your app!)
Armstrong Shredded Cheese or Bars $4.49
McCain Superfries or Specialty Fries 2/$4.88 +750 PC Optimum Points when you buy one, 2,000 PC Optimum points when you buy 2
Piller's Pepperoni Sticks or Bites $5.99 Member Pricing
After Eight 200/300g, Turtles 150g, or Quality Street 180g $4.99 Member Pricing
Get 1,500 PC Optimum Points for every $7 spent on D'Italiano branded products
PC Free From Sausage $5.99 Member Price
IOGO Yogurt Pouches $7.99 Member Price
PC Entrees $7.49 Member Price
Simply Orange Juice, Lemonade, or Gold Peak Iced Tea $4.99 Member Price
General Mills Family Size Cereal $4.99 Member Price
Pepperidge Farm Goldfish $2.29 Member Price
Cadbury Family Size Chocolate Bar $1.79 Member Price
Colgate or Crest Toothpaste or Manual Toothbrushes .88 Member Price
PC Pasta Sauce $2.29 Member Price
Finish Auto Dishwasher Tabs $13.99 Member Price
7,500 PC Optimum points for every $50 spent on Gap Inc Brand gift cards
Click here to view the upcoming flyer and start planning!