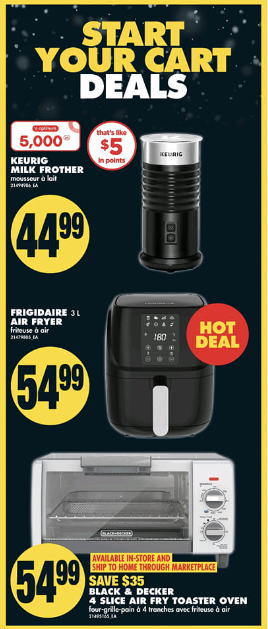 No Frills Ontario has several pre-Black Friday deals in their flyer for the week of November the 17th to the 23rd. There are also plenty of in-store PC Optimum offers coming up. Here are some of the deals in the flyer that starts Thursday:
2,500 PC Optimum points for every $9 spent on Wonder Products, Country Harvest, or Casa Mendosa Tortilla products
RCA 55″ 4K UHD WEBOS Smart TV $299
Chapman's Premium Ice Cream or Yukon Novelties (use up any $4 Chapman's coupons expiring this year!)
3,000 PC Optimum points for every $6 spent on General Mills Family Size Cereal
PC Stemless Wine Glasses 4's $9.99
Life At Home 3-Wick Candles $12
10,000 points when you spend $50 or more on baby diapers, wipes, formula, food, needs, or accessories
Keurig Milk Frother $44.99 (plus 5,000 PC Optimum Points)
Frigidaire 3L Air Flyer $54.99
Black & Decker 4 Slice Air Fryer Toaster Oven $54.99 (Available in-store and ship to home through Marketplace)
T-Fal Essential 4 Piece Non-Stick Cookware Set $34.99 + 5000 PC Optimum Points
Energizer Max Batteries $7.99
Brita Filters Package of 3 $29.99 + 7,000 PC Optimum Points
12 Inch Wok with Wood Handle $10
Click here to view the No Frills flyer in your part of the country.