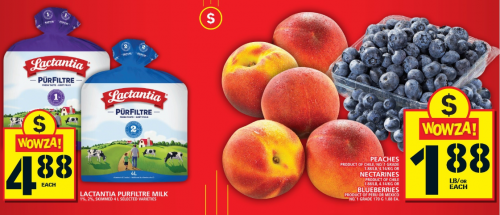 One of the the really great deals this week is the fresh berries PC Optimum offer at Loblaws banners. Purchase three strawberries, blueberries, blackberries, or any other berries in the produce department, and get 4,000 PC Optimum points with the loadable Points Days offer in your PC Optimum account.
You are able to mix and match the berries, but if you purchase three blueberries and are able to price match the Food Basics flyer, you can get three packages for just 54 cents each this week. The 6oz (170g) containers of blueberries are advertised for $1.88 this week at Food Basics, and you can price match this at either No Frills or Real Canadian Superstore in Ontario. Three containers will cost $5.64 total, minus the $4 value of the 4,o00 points. This makes the final cost $1.64 for all three, or 54 cents each.
I believe you can only purchase three per PC Optimum account to get the 4,000 points, and not multiples of three, as the offer does not say "for every three" purchased.
Click here to view this offer in the Food Basics Ontario flyer.