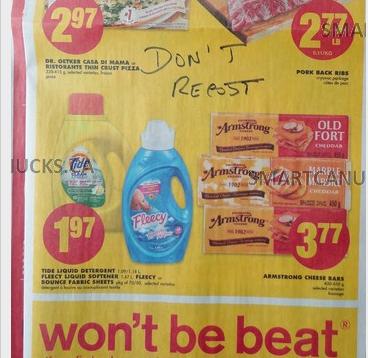 You are going to want to stock up on some laundry essentials this week with this fantastic deal at No Frills. From today, and until the 22nd of November, No Frills has Tide Simply laundry detergent, and Bounce dryer sheets on sale for $1.97, which is a very low price.
If you recently received the latest edition of the BrandSaver coupon insert with your flyers, then you should have an excellent coupon that you can combine with this offer. Check the insert for a coupon for $3 off the purchase of two laundry care products, including Tide and Bounce. Use this coupon and pay just 47 cents for each item! If you do not have the BrandSaver coupon, or would like more, you are able to print it through our SmartCanucks SmartSource printable coupon portal.
Click here to view this offer in the No Frills Ontario flyer.
Click here to print your coupon for $3 off the purchase of two Tide or Bounce laundry care products.