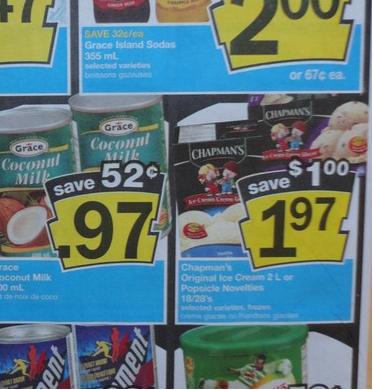 Summer is now in full swing and so are the fantastic prices on ice cream. From July the 24th until July the 30th, No Frills Ontario has Chapman's Original 2L ice cream on sale for just $1.97. Dig out your $4 coupon mailed out from the company and you can grab yourself two boxes for free! The coupon is valid on up to $4 worth of Chapman's products, meaning that yes, you can get more than one product.
One of the many things I love about Chapman's, besides their excellent ice cream, is the fact that their ice cream still comes in a full 2L container, whereas most other companies have shrunk their standard size. I also love their selection of flavours and the fact that you can still get classic varieties such as rum raisin and tiger stripe.
If you are planning to price match at another store such as Walmart you may want to do so fairly soon after this sale starts because stores that price match often get wiped clean of Chapman's when there is a deal like this.
If you have not yet ordered your $4 coupon from Chapman's, it may take some time to come, but you can request your coupon here.
Click here to view this deal in the No Frills Ontario flyer beginning July the 24th.