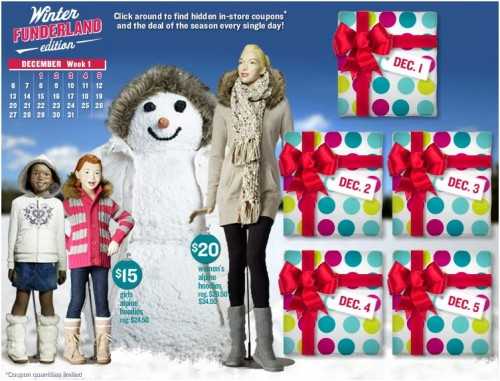 So some of you may have noticed that the Old Navy Weekly website looks different. After Gobblepalooza, the site has now updated with "Winter Funderland Edition" which has daily coupons, instead of the weekly coupon hunts.
For example, for December 1st, click on the box entitled Dec 1st and you will see that the offer is Adult Alpine Hoodies for $20 and children's Alpine Hoodies for $15. If you click on the girl in the middle with the white hoodie, you will notice that a $5 off coupon pops up, when you buy an Alpine Hoodie, which is valid from 11/29 – 12/5.
Dec 2 – Click on the snowball that the girl is holding in the offer, and get 10% off any in-store purchase, valid 11/29 – 12/5.
I think the idea is to check on each day and see what coupon you can get, maybe ones will be better than others. These are valid in Canada, just as the Old Navy Weekly were and it says they are limited. You can print them out or email them to yourself just like with the others.