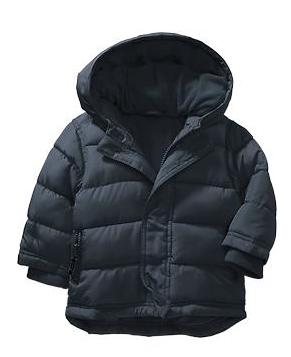 Since I just purchased three of these jackets from Old Navy Canada, I thought I would let you know about this particular deal. You may already be aware that Old Navy Canada is currently offering an extra 40% off clearance priced items when you use the code BOXSCORE, until December the 28th, which is today. I had no intention of purchasing anything until I saw this great deal on these toddler Frost Free jackets.
Regularly $44.94, these jackets had been on clearance for $19.99 in the Carbon colour. Use the promo code BOXSCORE, and with the additional 40% off they are now only $11.99! There is currently 3T and 4T left for sizes, so if you will need winter jackets for next year or even the following year, this is a fantastic deal. There is also an Ink Blue colour available as well for $29.99, or $17.99 with the 40% discount, which is still available in 3T, 4T, and 5T.
Do not forget that if you head over to Rexall first before making your online purchase, you can buy discounted Old Navy gift cards all this week! I picked up $100 in Old Navy gift cards yesterday for just $80, saving me an additional 20% on my purchase today!
Click here to shop this deal at Old Navy Canada online.