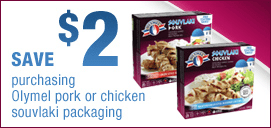 Here is another new coupon from Olymel Canada available to help you save money on Olymel products.
Save $2.00 when you purchase Olymel Pork or Chicken Souvlaki packaging
To get this Olymel Canada coupon, simply follow the link below to the Olymel Canada Website where you will be prompted to enter your email address to be able to download the available coupon.
This particular Olymel Canada Printable Coupon will expire on October 31st, 2014.
Click here to get your Olymel Canada Printable Coupon.