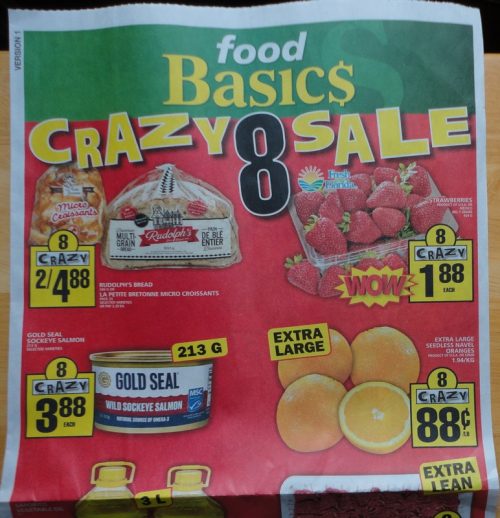 If you are wondering what will be on sale in the upcoming week, we now have some flyer sneak peeks for you this afternoon. Click the links below to view the No Frills, Food Basics, and Freshco Ontario flyers for the week of February the 23rd to March the 1st. Here are some of the highlights from each.
Click here for the Food Basics flyer.
Strawberries $1.88
Extra Large Seedless Navel Oranges .88/lb
3pk Romaine Hearts $3.98
Selection Bacon $3.99
Dempster's Zero Zero Bread $2.99
Lactantia Cream $2.88
Click here for the Freshco flyer.
6pk Coke or Pepsi $3
Boneless Skinless Chicken Breasts 4 pieces $10
Red Prince Apples $1 /lb
Shopsy's Wieners 2/$5
Betty Crocker Cake Mix 3/$5
Cheez-It Snap's Crackers $3
Axe Body Spray or Body Wash $4
Click here for the No Frills flyer.
Bone In Skinless Chicken Breasts $3.44/lb
Palmolive Dish Soap $1.25
Pork Back Ribs $2.99/lb
No Name Vegetable Oil 3L $7.77
10lb Bag Farmer's Market Red or Yellow Potatoes or Yellow Onions $3.99