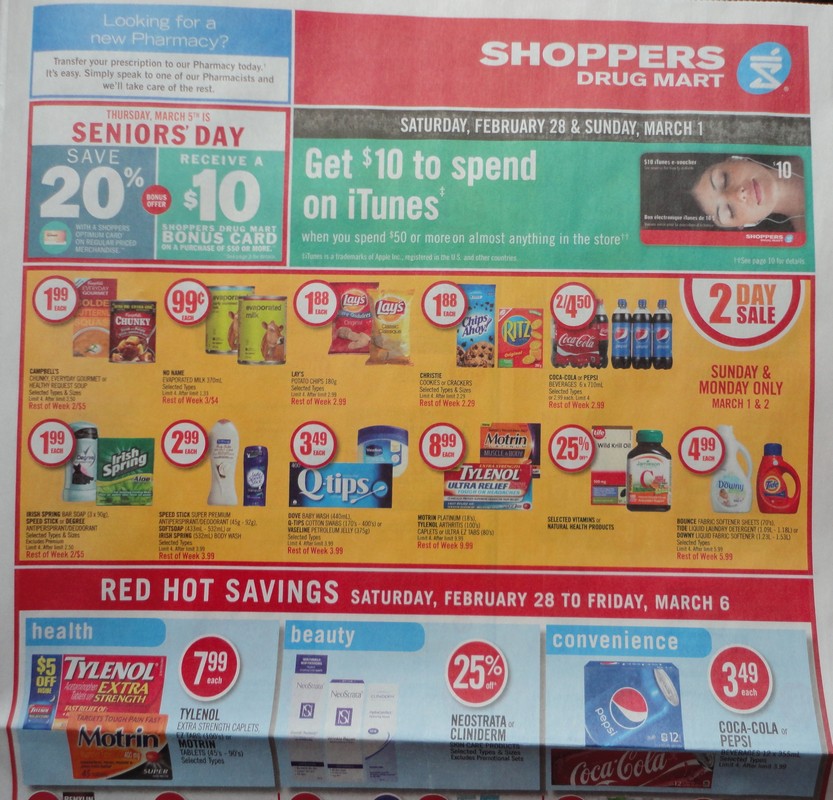 Here is a look at one of the most anticipated flyers each week! Cyn88canada has uploaded the Shoppers Drug Mart Ontario flyer, beginning February the 28th, but sadly, this is not the best week for promos.
There is a two day sale, Sunday and Monday, with some great deals including Lays chips for $1.88, Christie Cookies or Crackers for $1.88, and Degree Deodorant for $1.99.
Saturday February the 28th, and Sunday, March the 1st, spend $50 or more on anything in the store, and you will get $10 to spend on iTunes. Not much incentive to spend $50 this weekend, but who knows, you may receive a personal offer for 20x the points, or some other appealing offer to incite you to shop.
Thursday, March the 5th is Senior's Day. Senior's receive 20% off regular priced merchandise, and get a $10 Shoppers Drug Mart bonus card with a purchase of $50 or more.
Click here to view the Shoppers Drug Mart Ontario flyer for the week of February the 28th to March the 6th.