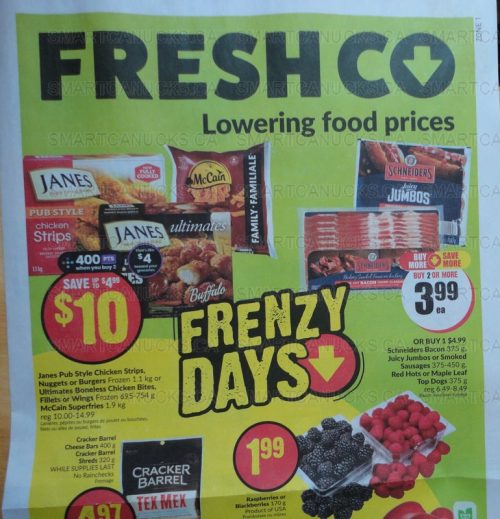 We have some flyer sneak peeks for you to browse this morning! Click the links below and you will find the Freshco and Metro Ontario flyers on our forum for the week of September the 7th to the 13th. Here are some of the great deals to look forwards from each of these flyers:
Click here for the Freshco flyer.
Schneiders Bacon, Juicy Jumbos or Smoked Sausage, or Red Hots or Maple Leaf Top Dogs $3.99
Raspberries or Blackberries $1.99
Delissio Thin Crust Pizza $1.95!!!
Primo Pasta or Sauce $1.22 Member Pricing
Green, Red, Yellow, or Orange Sweet Red Peppers $1.49/lb
Starbucks Roast & Ground Coffee or K Cups $8.99
Post Cereal $3.49
Quaker Bars $1.96
Click here for the Metro flyer. 
Lactantia or Natrel Cream $1.99
Kashi or Made Good Bars $2.99
Large Green, Red, or Black Seedless Grapes $1.67/lb
Green Peppers or Zucchini $1.29/lb
10lbs White Potatoes $2.99
Kawartha Ice Cream $5.99
Kashi Cereal $4.99
Eggo Waffles 2/$7