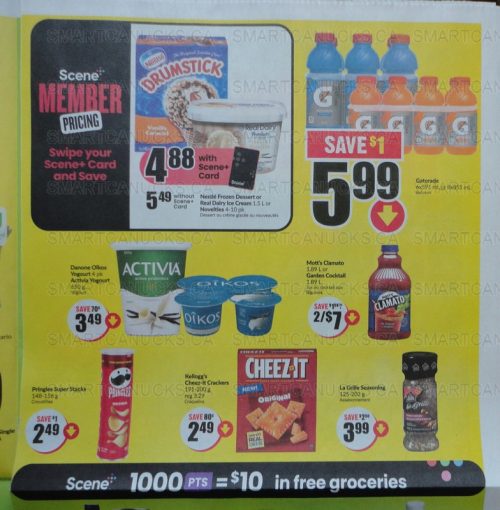 You can get your grocery list for the upcoming week underway by taking a look at the flyer sneak peeks we now have available! Click the links below to take a look at the Freshco, Food Basics, and Metro Ontario flyers for the week of June the 8th to the 14th. Here are some of the sale prices from of these store flyers:
Click here for the Freshco flyer. 
Lantic Granulated Sugar $1.99 Member Price
Mazola Corn Oil 2.84L $9.99 Member Price
Dempster's Whole Grains Bread, Signature Buns, Tortillas, or Bagels $3
Piller's Salami $3.29
Nestle Frozen Dessert or Novelties $4.88 Member Pricing
Pringles $2.49
Cheez-It Crackers $2.49
McCain Superfries $2.50
Click here for the Food Basics flyer.
California Jumbo Cherries $2.98/lb
Cauliflower $1.92
Scotties Facial Tissue 6pk $3.96
Seedless Cucumbers .98
Gay Lea Sour Cream $2.49
YOP .99
Dempster's English Muffins $2.44
Selection Cheese Bars or Shredded $4.44
Click here for the Metro flyer.
Cavendish Premium Fries $2.99
Extra Lean Ground Beef $3.99/lb
Kellogg's or Post Cereal $3.49
Strawberries 2/$5
3pk Romaine Hearts $2.99