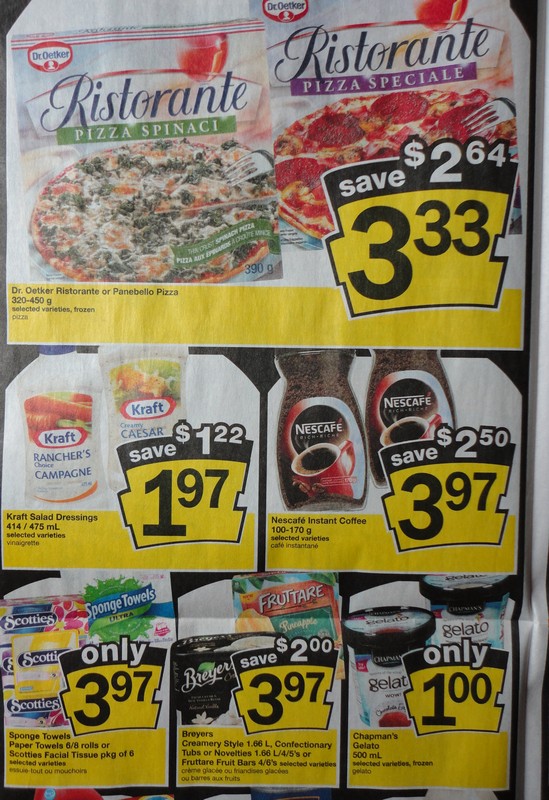 Cyn88canada has pulled through for us once again, providing us with the sneak peeks of the flyers that we look forward to the most here in Ontario. Here we have a look at the No Frills and Food Basics flyers for the week of August the 21st to the 27th. Below are some highlights that I have listed, and you can click the link to view the complete flyers and start making that shopping list!
Nature Valley Granola Bars or Betty Crocker Fruit Snacks $1.44
Nestle Spring Water 24's $1.88
Dr. Oetker Pizzas $3.33
Chapman's Gelato 500ml $1
Pampers or Huggies Wipes $1.97
Peaches .87/lb
Grill Ems or Juicy Jumbos $3
Nature Valley or Quaker Granola Bars or Betty Crocker Fruit Snacks 3/$5
Nestle Sundae $1.97
Black Diamond Cheese Bars or Cheese Strings $4.44
Eggplant or Green Peppers .97/lb
Dempster's Bagels or Whole Grains Bread 2/$5
High Liner Breaded or Battered Fish $5.49
Gay Lea Sour Cream $1.49
Iogo Yogurt Tubs or Tubes $1.99
Cyn88canada will be taking a bit of a break before posting more sneak peeks, so be sure to check back in a little bit for more flyers!