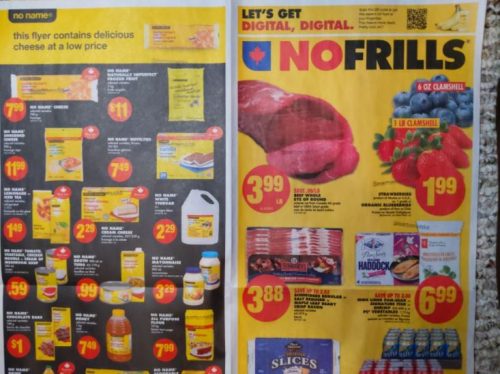 Our Tuesday sneak peeks are here! Click the links below to view the No Frills, Food Basics, and Freshco Ontario flyers for the week of March the 3rd to the 9th on our forum. There are some great advertised sale prices this week, and here are some of the highlights:
Schneiders Bacon $3.88
English Cucumbers .99
The Laughing Cow Cheese $2.99
Eye of Round Roast $3.99/lb
don't forget to check the digital flyer when it's released for more deals!
Astro Original 12pk $2.99
Cavendish Fries $1.99
Taster's Choice or Nescafe Instant Coffee $3.98
Selection Bacon $2.97
Cheemo Perogies $1.99
Combination Pork Chops $1.98/lb
Campbell's Broth $1.67
Aylmer Condensed Soup2/.88
Parlour Frozen Dessert $2.99
Delissio Thin Crust Pizza $2.99
Black Diamond Cheese Bars or Shredded $4.49
Cashmere Bathroom Tissue or SpongeTowels $5.99
Hostess Snack Cakes $1.99
Annie's Mac & Cheese $2
Oasis Refrigerated Juice $2.99
2L Coke or Pepsi 2/$3
Asparagus $1.99/lb
Tostitos Chips or Salsa 2/$5
Cheez-It or Townhouse Crackers $1.99
Dempster's Whole Grains Bread $2.49