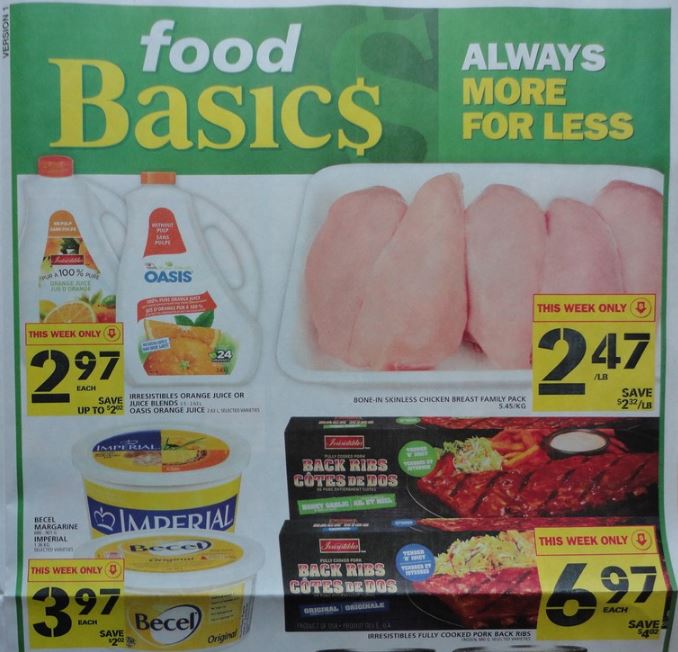 We have your early flyer sneak peeks for Ontario grocery stores from cyn88canada.  Use these to start planning your shopping lists for next week so you can wait to buy items that will be cheaper or stock up on items that will increase in price next week.
Food Basics Ontario flyer sneak peek
Xtra laundry detergent $1.99
Cashmere 15 double rolls $4.97
Primo pasta $0.99
Becel $3.97
Green peppers $0.98/lb
Zucchini $0.88/lb
FreshCo Ontario flyer sneak peek
Iogo 16pk $3.97
Chicken drumsticks $1.88/lb
Smithfield bacon $2.44
Compliments Balance eggs 12s $2.47
Basmati rice 3.63kg $3.97
No Frills Ontario flyer sneak peek
Pork loin combo chops $1.97/lb
Cantaloupe $0.97ea
10lbs potatoes $2.77
Cauliflower $1.47
Mushrooms 3 packs for $5
Real Canadian Superstore Ontario flyer sneak peek
Get 2500 PC Plus points on all PC frozen burgers (Friday-Sunday)
Corn 10 for $2
Whole chicken (2 pack) $1.77/lb
Wonderbread or buns $2
Plus pay no tax on electronics and more when you shop at Real Canadian Superstore on Saturday.
These flyers are local to GTA so you may find some small differences if you do not live near Toronto.  View all flyer sneak peeks here.