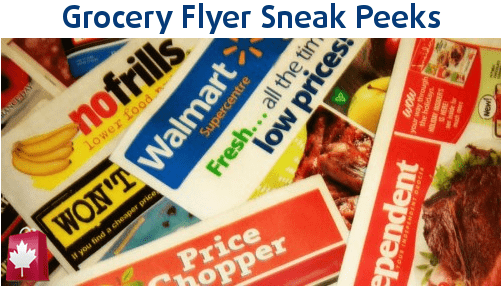 We have some sneak peeks of upcoming grocery store flyers for those of you in Ontario
Food Basics Ontario Flyer Sneak Peek
Great news for those who have been suffering through crazy cauliflower prices, you can get them for only $1.98 this week.  Great if you are not near a RCSS store for the sale this week, or they sold out on the weekend.
Kraft Dinner 12pk $5.97
Pork loin $1.47/lb
Ground pork and beef blend $2.97/lb
VH sauces $1.98
FreshCo Ontario Flyer Sneak Peek
The flyer is not as good as some of the prices this week, especially for staples like meats and produce so you may want to plan ahead and shop early for those items.  Some of the better deals include:
10kg flour $7.97
Kraft peanut Butter, Smuckers Jam or Nutella $2.47
3lb apples $2.97
Mushrooms $1.49/pk
No Frills Ontario Flyer Sneak Peek
Don't forget to log in to both PC Plus and Guiding Stars to load your bonus offers before shopping.
Whole chickens $1.77/lb
Raspberries 6oz $1.97
Kellogg's cereals – select up to 680g $2.97
St Hubert pies $6.97
A huge thank you to cyn88canada for these early sneak peeks to help us plan our shopping for the week.